"Oh my God, These salespersons will drive me crazy" exclaimed Sophia while throwing her bag on table and comforting herself in a sofa. "What happened?" asked Andrew without even turning his head from his phone. "As usual, you are busy in texting your friends and I was running here and there looking for good mattress for our bed" said Sophia and as she continued," You hardly take any responsibility but every morning will complain that you didn't get proper sleep." "Ah! And who complains every day that my neck is paining…my body is aching even after having proper rest" shot back Andrew. "See, am in no mood to argue. Think about it, we both feel uncomfortable even after proper rest. May be we need to change our mattresses. That's why I went to different show rooms to check about what kind of mattress we should have", said Sophia. "Oh honey, am so sorry for being a little indifferent," apologized Andrew, "So what did you find? Let's plan it together"
Pouring some wine, Sophia said," There is a huge variety of mattresses in the market and if we don't use a proper mattress, we are bound to get improper sleep or uncomfortable postures while sleeping resulting in body pains." "This is what is happening with us." By any chance, do you know what a Tufted Mattress is?" asked Sophia. Taking a bow before Sophia, Andrew said in a funny tone, "O Oracle, who knows it all, please enlighten!" "Fun aside, yes, this is something serious and we need to know else it affects our day to day working", agreed Andrew.
Now it was Sophia's turn. "Let me explain you why we should choose tufted mattress but before that you need to know what is tufting." "The top layer of the mattress adds comfort factors like softness or thickness to the mattress. This layer is called quilt. Quilt also holds layers below it from moving here and there and from any shifting. This securing of quilt to lower layers of the mattress is called Tufting. Over the years, the process of tufting has changed. Earlier they used buttons to anchor the material at one place, now they sew top layer with layers beneath it."
"Top layer, it's so beautiful…look so vibrant colors on our mattress", said Andrew. "Silly, that's not the top layer. That's the fabric only. m talking about the layer that provides us the comfort on the mattress", said Sophia. "But how it adds to our comfort?" asked Andrew. "When tufting process is carried out, it creates high and low spots called eaks and valleys'. These lock the comfort material at one place. Thus the comfort material stays at its place providing support and uniformity of the top layer. That is why tufting is so important" explained Sophia.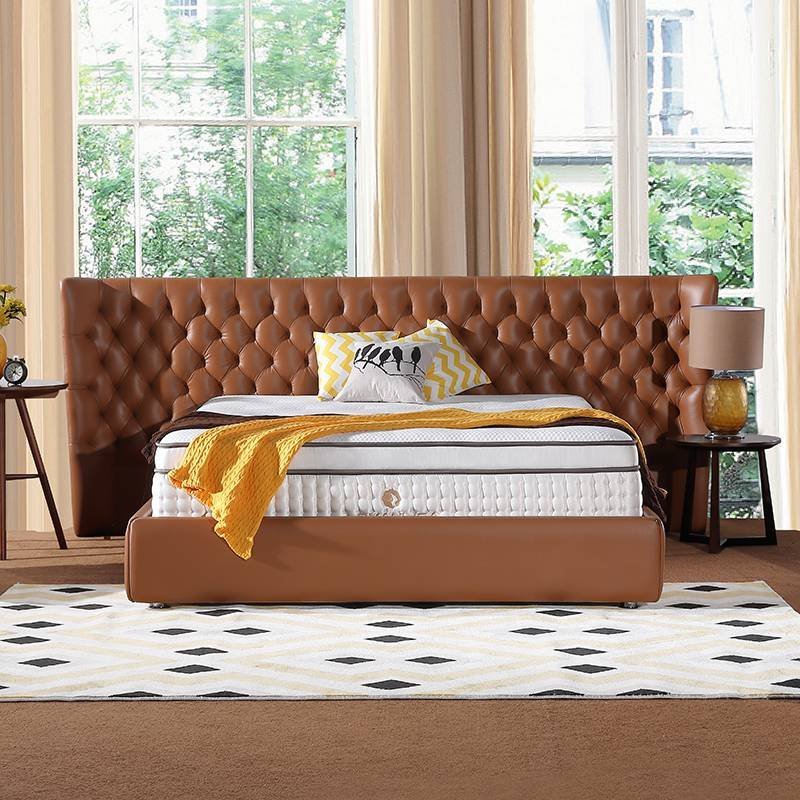 "But Honey, if it's a solid foam mattress, do we need tufting?" asked Andrew. "No sweet heart, we don't need tufting just as in our present mattress. We just need a physiotherapist time to time to take care of our body." "Don't you see how our mattress is falling apart?" "When a mattress is tufted, means, it has multiple layers that create a smooth sleeping top. The inside springs keep the mattress in shape when the weight from the mattress is off and soft parts ensure comfort. In addition, presence of multiple layers makes it possible for air to flow through it and therefore the mattress doesn't turn hot."
"Humm…", Andrew asked in a thoughtful manner, "What about quilted mattress?" Sophia, who seemed to have mastered the subject replied, "Both types use different process to hold the top soft layer to the beneath layers. In case of quilted mattresses, long pieces of threads are used to hold the different layers together, whereas in case of tufted mattresses, many thick straps hold the layers. Here, it comes down to individual preferences on who wants to use what. However, they are known for their strength and craftsmanship. Almost all high quality mattresses like ocket spring coils' are tufted mattresses. In this type of mattress, individual coils are dispersed through the mattress and they don't let the movement in one part of the bed pass on to the other. In other words, if you wake up at night, your movement from the bed won't disturb me." "OK, but what about latex or gel mattresses?" he asked. "They are a different category of mattresses. Yes, they don't need tufting. But I prefer to choose a tufted mattress as not used to gel or latex. At the same time, if size is an issue, we can get custom sizes", she replied. " You see, there are so many advantages when we choose.
"But don't you think that tufts will cause discomfort while sleeping?" "Some people do think that tufts can cause some problem. But my answer is - No dear! Tufts are actually very important as they hold everything together. Without tufts the stuffing and the spring system will just get free and will make the mattress good for nothing. If we use good tufting, there will never be a problem and we shall enjoy our bed," winked Sophia.
"So your research says that our mattress should be firm and tufted with good quality material, should be comfortable and when we get out of the bed, it should take back its normal shape", said Andrew. "But what about the pricing?" he asked "Well, if we need a quality product, we have to spend a little extra. Now look at our present mattress. It was inexpensive but did it serve us any purpose. We spend money to buy it, but actually we bought nothing but discomfort. And within a short time, it's already disintegrating. So we were not wise enough when we bought that….I think, actually you had bought that!!! Buying a handcrafted tufted mattress may be a little expensive, but we buy a premium product. Price also varies depending upon size and brand. Hope that now you understood the importance of choosing a tufted mattress", Sophia said happily. "And what are you waiting for now? Let's go and get one so that we have a great time tonight." she insisted. "Great time tonight, baby you got me" said Andrew while Sophia giggled.